.
Our analysis and research are aimed particularly at asset allocators and financial companies as well as any other companies with interests in continental Europe.

MONTHLY MICROSCAN
September, 2014.
We have lowered our estimate for economic growth in the euro zone this year to 0.7% from 0.8% and our 2015 forecast to 1.2% from 1.3%.
The ECB in September announced a series of measures aimed at stimulating growth and preventing deflation. These include another cut to its main interest rate and an asset-purchase programme, albeit on a smaller scale than in the US.
The euro zone recovery will remain fitful until structural reforms are put in place, particularly in France and Italy.
The results of bank stress tests will be announced in October.
Sample Presentations
Sample Product
Debating The Future Of The Euro
European Economics Focus
Germany: The Growth Engine Stutters with strong fundamentals
September 26th, 2014
As the German economy struggles to grow, the Government will continue to resist the permanent transfers that the euro-zone's periphery needs. But it will probably back further extensions to deficit targets and, despite resistance from the Bundesbank, more unconventional monetary policysupport.
Risk Assessment
Sovereign risk
Germany's stock of public debt is comparatively high, but its budget is in surplus. Established political and public support for fiscal discipline reduces domestic risk to the public finances. However, bank bail-out costs may rise and continued use of the sovereign balance sheet to support the euro zone would strain creditworthiness.
Currency risk
The euro is supported by a current-account surplus and a strengthening capital account position as capital outflows from the periphery have reversed. Continued euro strength could hinder the region's fragile economic recovery. However, interest-rate differentials should lead to a stronger US dollar in the second half of the year, particularly as the European Central Bank (ECB) has loosened monetary policy further.
Banking sector risk
Banks have significant exposure to peripheral euro zone debt, which could lead to losses over time. There are some concerns about smaller regional lenders. Reforms to strengthen the banking sector are under way, but low profitability, high leverage and fragile balance sheets will remain a concern.
Economic structure risk
The economy is competitive, unemployment is at a two-decade low and consumption is strengthening. However, over-dependence on exports, especially of capital and transport goods, exposes Germany to the risk of an external shock, and demand from key markets looks increasingly weak. The recent decision to introduce a national minimum wage poses some risks to competitiveness.
Analysis:
Germany's second-quarter contraction of 0.2% quarter on quarter was weaker than had been widely expected. Some of the softening was an inevitable correction from the strong first-quarter growth of 0.7% (officially revised down from 0.8%), which was buoyed by a boost to construction from unusually mild weather. This corrective effect will unwind in the second half of the year, leading to a return to growth in the third and fourth quarters. However, there has also been a clear slowdown in the underlying momentum in Germany in recent months, largely driven by a weaker external sector. Growth in France and China (two of Germany's five biggest trading partners, with a combined 15% of exports in 2013) has slowed. The Ukraine crisis, meanwhile, has had a visible impact on business and investor sentiment since March.
The deterioration in exports is especially important for Germany. The sector is crucial for the economy's well-being, reflecting, in part, the long-term weakness of domestic consumption and investment. Exports of goods and services are equivalent to over 50% of GDP in Germany, compared with an average of 31% in France, the UK, Spain and Italy. Meanwhile, Germany's businesses are becoming increasingly gloomy. In the year to June 2014, industrial output dropped by 0.5% year on year, the first decline in 11 months, suggesting that weakness has persisted into the second half of the year. Given the importance of the industrial sector—it accounts for more than 30% of output, an unusually high level for a west European country—this heightens the risk that the softening in external demand will feed through to the domestic economy, putting downward pressure on employment and consumption.
The geopolitical tensions caused by the worsening conflict in eastern Europe are darkening the investment climate in Germany and making investors very cautious. And the recent imposition of EU sector-wide economic sanctions on Russia are compounding domestic problems, posing serious risks for Europe's growth this year and next. What had been expected to be a strong 2014 for Europe's largest economy- it accounts for almost 30 percent of Eurozone growth domestic product- is now looking mediocre at best. Growth in the quarter to the end of June fell 0.2 per cent, twice as much as forecast prompting economists to cut their 2014 forecasts from 2 percent to about 1.5 per cent.
German's export oriented economy has long been a model for the rest of Europe. But its apparent strength has concealed long-term vulnerabilities that threaten to crimp its potential. The implications of a slowdown in Germany stretch beyond its borders. Faster growth would give more time for weaker Eurozone members to restructure while a slowdown would retard Eurozone recovery and add to the pressure on the European Central Bank to extend its ultra-lax monetary policies. The sudden plunge in the second quarter into virtual stagnation came out of the blue. This has served the twin purpose of reminding everyone, including Berlin, that the German economy is not invulnerable and gave the ECB a clear reason to think about doing more.
For German executives the slowdown in Germany is not just about Ukraine, but they also take in emerging markets' weakness in countries such as Brazil, plus the growing competitive threats from China and an industrially-resurgent US. For German CEO's the rooster of concerns include also high energy costs, skilled labour shortage, crumbling infrastructure and bureaucratic hurdles. The recent economic policy crafted by Chancellor Merkel has received a lukewarm reception from the business community.
Despite all the economic tailwinds, Germany is still doing well. With forecast 1.8 per cent growth this year, German GDP by the end of 2014 is predicted to be 10 per cent bigger than before the 2008-9 global financial crisis. That is short of the US on a projected 13 oer cent, but far ahead of the rest of the EU, where output languishes below 2008 levels. The mighty German export machine passed its pre-2009 peak in 2011 and is churning away at about €1.2tn, third in the world behind China and the US. The federal government finances are stable, with planned borrowing set to fall to zero next year. While household debt has declined, consumption is growing, albeit slowly. Unemployment is below 7 percent, compared to nearly 13 per cent elsewhere in the Eurozone.
From a policy perspective, Germany is now in a very good position. But in the next 10 years every economy in the developed world must change. In Germany the reform agenda is not making the progress that it did in previous year. Low investment is a longstanding German economic shortcoming. The share of gross fixed capital formation in GDP is just 17 per cent, will below the 21 per cent average for industrialised countries.
The Bottom Line:
The German economy is in the midst of serious slowdown. This has been mainly concentrated in the industrial sector, and has led to a drop in the underlying growth rate to 0.8% per cent. The official GDP data have been even weaker than this, and it is conceivable that a "technical recession" will be called when the Q3 GDP data are published. However, the probability of a genuine, and therefore far more painful, recession developing in the next 12 months is only about one in seven.
Germany is therefore in a period of slow, and slowing growth, but yet in a full-blown recession. This is unlikely to be enough to change Berlin's thinking on its preferred economic strategy for the Eurozone, so once again the ECB may well have to go it alone.
Euro-zone Charts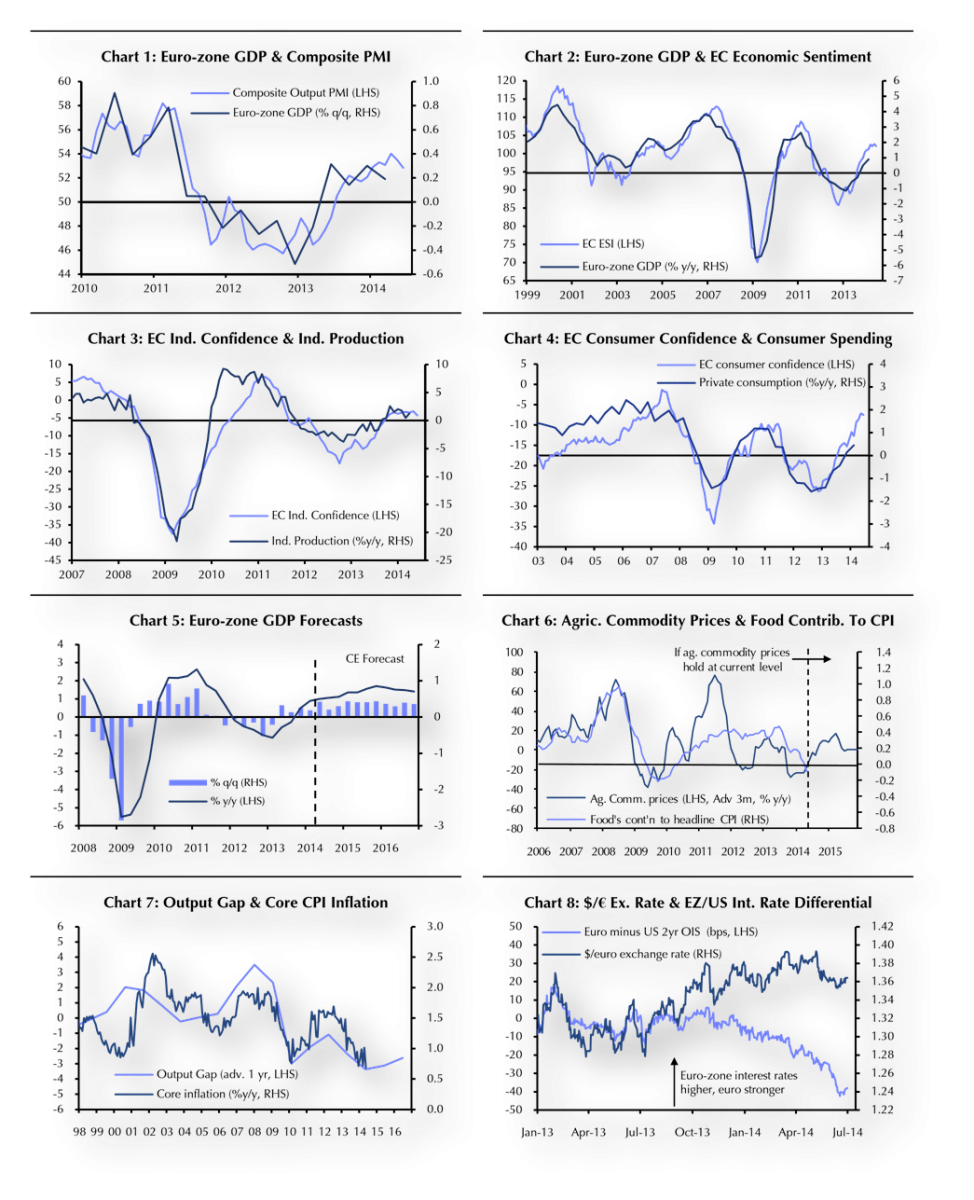 Access to the full article is restricted to Swiss Global Economics clients only.
Recently Added
Poland: Tightening the monetary noose and anchoring Inflation expectations.
Turkey: Monetary Policy will bear the brunt of fixing Macroeconomic Imbalances.
The eurozone needs a Monetary Back -Up To Solve Crisis.
Poltical leadership is needed on the road to fiscal union.
Will Greece's second bail-out help reshap the solvency of the government?
Dissecting the implications of the German Court ruling on highly indebted euro-zone economies.